Linked-In Tip
Have you checked-in on your LinkedIn account recently? When you try to login, does it say it has been "Restricted"? If so, I'm sure your initial reaction to seeing this is astonishment like mine…"How could they?!?!? I've done nothing wrong!" Shortly thereafter leading to feelings of bewilderment, followed by the cold sweats of panic as you consider what you are going to have to go through to get your account reinstated, and finally the momentary thoughts of dread if you can't.
Well, I'm here to tell you to take a deep breath and know that it's probably going to be just fine. There are any number of reasons that could have led to this action being taken by LinkedIn; however, know that it is actually not to frustrate you but to actually protect you and your profile. Some of you may remember that this happened a couple of years ago when there was a data breach of LinkedIn user information – we all had to reset our passwords (which more than likely needed to be updated anyway).
Given the increased state of online security concerns, it appears that LinkedIn has stepped-up its game on not only detecting any kind of suspicious activity but also on what they will do if those detectors set off an alarm…primarily being that your account is auto-marked as "Restricted" until a LinkedIn security person can manually review the activity.
The only option given (once you see the alarming notification) is to proceed by "appealing" the restriction by the "Verify your identity" button: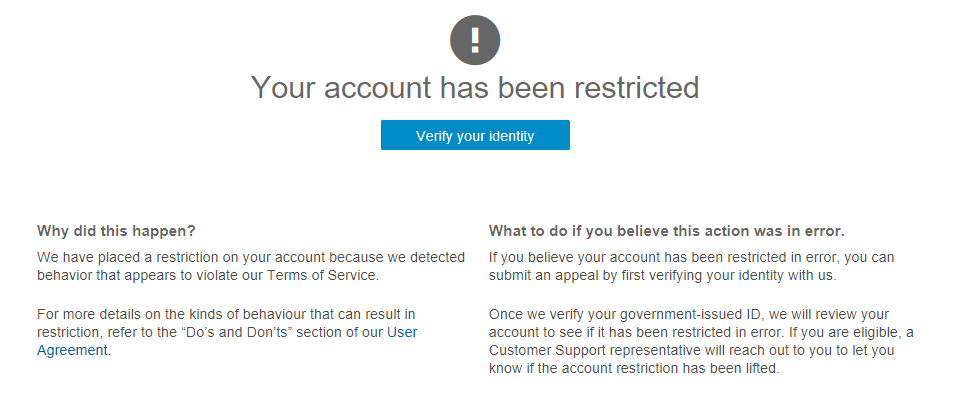 …to which I though "OK, I'll do that!" But to my horror, I was then being asked to scan and upload my Passport, Identity Card or Drivers License!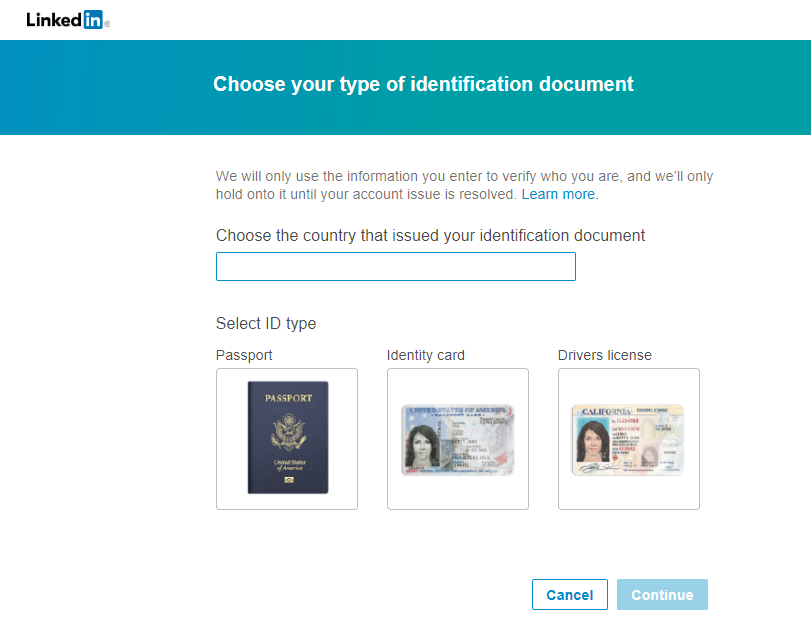 At that point I assumed that this was a phishing scam and I had somehow gone down a rabbit hole of someone trying to steal my identity, so I quickly cancelled out! However, I quickly realized that there were no other options for me at this point – I couldn't login to LinkedIn, so how could I submit a support request?
I started googling to see if this really was legit, and as far as I could find LinkedIn does employ a company called Jumio which has some kind of magic ID Verification process. So in the interest of sacrificing my personal privacy for the science of social media, I decided to scan and upload my Drivers License. The next day my restriction was lifted and I was prompted to reset my password. Things were back up and running…until later that day when it became "Restricted" again (ugh!). Subsequently, I've also heard from others that this method is not 100%, and that even though they also got through to the point of resetting their password, their accounts were restricted again.
So I went back to google and searched for some more blogs on the topic from previous restricted escapades. One post in particular was most helpful in that they recommended two actions:
Tweet to LinkedIn Help @LinkedInHelp – I sent them a DM explaining my issue, and while they were understanding, they could not help me. However, from this interaction they instructed me to contact LinkedIn Support directly via this form.
Submit an Issue to LinkedIn Support – Well, how do I do that if I can't login to LinkedIn since the support page requires you to be logged in? I'm "Restricted" and can't do anything! Alas, after much reading through the blog comments I was able to find the following support email: lcshelp at linkedin dot com
I actually tried both and while I've found both to be effective, the support form was the easiest and most effective way to submit an issue. Just be sure select your Issue Type as "Restrictions" and then you can simply ask them to please send you a password reset so that you can regain access to your account.
Important Note: they will need to know the email that is associated with your account (i.e., the one you use to login with) – be sure to note in the comments that if it is different than the one you want them to correspond with. I believe, though, that they will only send the password reset to the account-related email…so if you no longer have access to that old AOL/Yahoo/etc. account, you probably need to state that up-front and work with them on getting that updated first.
Usually it takes about 24 hours for them to get back to you and send the password reset, but if you don't prompt them via a support case, it won't get the squeaky wheel priority.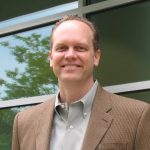 Paul Estes – Managing Director
pestes@gosocialagent.com
www.linkedin.com/in/GoSocialPaul
www.facebook.com/GoSocialPaul